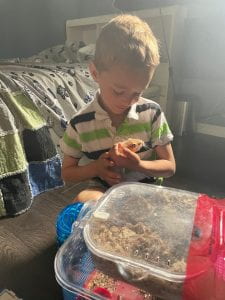 It was our privilege as the Grade 1 and 2 CREW to include Diamond, our class Hamster, in our learning journey. Being a Creation Enjoyer and Earth Keeper included caring for the needs of this rascal of a hamster. I asked Diamond to write up a reflection on his experience with us this year. I also asked the students to write about their memories with Diamond.
Diamond Crewzoo's Year in Review
Hi. My name is Diamond Crewzoo and I am a hamster. I am in charge of the grade 1 and 2 class at Centennial Christian School. I live in a fancy loft equipped with exercise wheel, swing, and my favourite napping spot – a little room at the top of my house. This is not a bad place to spend my days. But, if you can keep a secret, I would like to tell you what I really want.
While most hamsters are happy to laze around day and night feed on copious amounts of hand delivered food, I am more of an adventure hamster. My home feels more like a cage, and I have designs to break free. I want to eat candy, make tonnes of new friends, and explore the wide world!
My favourite time of the week is Friday. Every Friday I get to visit a new home for the weekend. I love playing with the students in their own home. I enjoy getting out of my 'cage' to explore new places. The hamster ball is a great way for me to get around. I feel safe from other animals, yet I can race along at top speed. But more importantly, my hosts sometimes give me a chance to escape. And that is when the real fun begins!
The first time I escaped was super fun, but also a little scary. I was at the Thiessen home. They have awesome kids that like to adventure, just like me. They also eat tasty food. The smells at mealtimes made me salivate. During the night I thought I would give escape a try. I chewed through some plastic clasps that were in my knapping room, gave the roof a shove, and wouldn't you know it, I was free. I had to be careful. The Thiessens have a couple of dogs. I wanted to snack, not become a snack. The mothership of good food came from the oven. I beelined for the oven and managed to find my way into the oven drawer. It was a bonanza of delicious crumbs, and I set too with vigour. Hours passed. I ate, I slept, I ate again. But soon the temperature in the drawer started to get uncomfortably warm. This is the scary part. I couldn't remember how I had gotten into the drawer. I didn't know the way out. Was I going to get cooked? And then when I thought there was no hope, the drawer opened, some hands reached down and picked me up. I was put back into my loft, and to be honest, I was happy to be there. The next time I escaped I would not get stuck in an oven!
A few weekends later I was at the Bodenbenders. They have a fun house too. I was itching to get out of my cage and check out their home. They must have a bird feeder because I could smell the bird seed. It smelled good. I wanted. That night I pulled the same trick and was soon out of the cage. It wasn't hard to follow my nose to the birdseed. After feasting for a few hours my stomach was a little bloated. I had to find a bathroom. I found a nice one and thought I better just stay really close to the toilet. That was where they found me. I was put back into the cage. I learned that I better not over-eat on bird seed the next time I escaped!
As you can see, I am pretty good at escaping, but I'm not great at staying escaped. A few weeks later I had another chance. I was staying at the Laings. All the grade 1 and 2 families are so fun, and this family is no exception. After a day of playing with the kids I was ready for a good rest. But in the night, I woke up feeling restless. My usual trick worked, and soon I was out of the cage and roaming the house. The grandparents had recently visited, and we all know that grandparents mean candy. I headed towards the guest bedroom where they stayed. It didn't take too much snooping around to catch the scent. Before long I was tucked away in the corner of the bedroom closet with an entire candy necklace to myself. I was in my happy place. As you know with candy necklaces, it's easy to lose track of time. That was my downfall. I was chewing on a delicious pink candy bead when two hands came out of nowhere and scooped me up.
Just last week I was able to visit the Smith home. With three boys running around, I knew I was in for a good time. My favourite times were after school when the kids were able to give me lots of attention. That's why I was surprised by what hit me that night. It was about one in the morning. I was doing some lazy laps on the exercise wheel, just stretching out the muscles and reflecting on another great day, when I was hit with a sudden strong urge. What if instead of just wandering around the house, I got myself outside of the house to explore the entire world! It was the call of the wild! This was a call I couldn't ignore. I was out of the cage in seconds. My nose was sniffing the fresh air and like a Homing Pigeon I let my body move me inexorably towards what turned out to be an open basement window. I was on the floor and the window was way up there, but thankfully I am a good climber and some jackets hanging on a hook were my 'Everest'. It was an effort, but I survived the climb and soon I was standing on the window ledge, outside the window. I could taste the freedom, the adventure, the unbroken horizon of possibilities. And so, I pulled a 'candy necklace'; I forgot to think. Instead, I just leapt off the window ledge to embrace my glorious destiny. Hamsters are tough. We can fall a long way down without getting hurt. We are designed with a lot of extra skin and what we like to call protective padding. I just spread eagled in the air and floated down like a leave. As I fell, I was imagining all the tasty treats I would find in the great big world. My reverie was interrupted by a metallic clang. That clang was my body hitting the bottom of a metal bucket. A large metal bucket. 'Look before you leap' is a saying I had heard before. Oh, why did I not just take one look down to see where I would land!
And so, I am writing this from inside my loft, my cage, my home – for now. But I would like to think that I am learning, that I am closer to true freedom than ever before. I just must avoid certain temptations like breadcrumbs, bird seed, and candy. And next time I will certainly look before I leap. I have managed to escape four times already. And I am pretty sure the fifth time will be for good.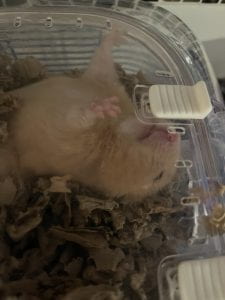 Some writings about Diamond from the grade 1 and 2 students
"Diamond was at my aunt's house, and they have a cat and the cat was trying to scratch Diamond and eat him when he was in the cage. We took him out and the cat was looking at him in the hamster ball. But Diamond was safe." -Imani
"When it was almost supper Diamond woke up, so I decided to feed him. I put lots of seed and one banana chip. By the time he got down he went to get a drink and only ate to get a banana chip. THIS MAN! PICKY EATER!" -Camille
"Diamond is good at escaping, but he can't escape anymore. That is good. He loves playing in his ball." -Josiah
"It was my turn to take Diamond. I put Diamond in the Hamster Ball. One day my mom was showering and my dad put Diamond in the bathroom. It scared her so much!" -Jordan
"I have Diamond today and I love him. He is silly and he is cute." -Amy
"I had the hamster. He loves to play with me. My sister, Addie came out to play. We all played tag. It was getting late. I went home. I ate dinner. I went to sleep. Diamond is so fun!" -Rylan
"To Diamond, from Jackson. I was having fun. I don't know what I will do without you. Really. I am telling the truth." -Jackson
"Hi. My name is Diamond. No that's not you talking. Hi. My name is Luke. I love Diamond but he is very fast. Bye Diamond." -Luke
"I like Diamond because he walks in a round ball. I hope you have a good day Diamond. You are a goofball like my brother. Do not run away again!" -Lincoln
"When we play he tries to escape my hands, but I'm too fast for him. I move my hands so he can't escape me." -Braydon